Create Definitions not only for ambiguous and little known terms, but also for the entities that your system needs to manage. For example, a loan processing system might manage an applicant's Employment History. By attaching fields to definitions, such as date of hire for Employment History, you have a good start on your system's data dictionary.
In addition to adding definitions using standard techniques, you can also create a definition by right clicking on a word or highlighted phrase while editing any text: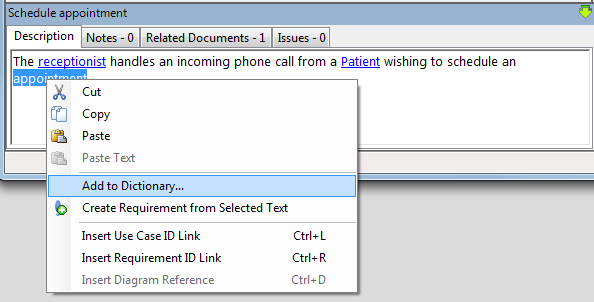 The Add to Dictionary window is displayed where you can choose which package you want the definition to be placed in: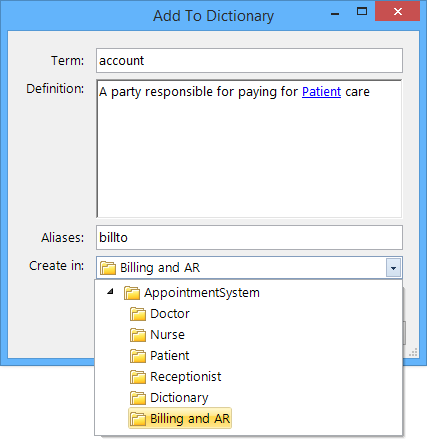 When you double click on a definition in the project browser or in the Definitions tab, the details window is opened: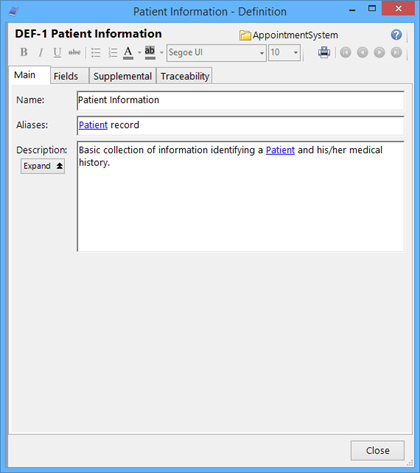 Here you can provide aliases (alternative terms by which the definition is known, separated by commas or semi-colons), and update the text of the definition. You can add notes, issues and related documents under the Supplemental tab. If the definition has applicable requirements, add references to them in the Traceability tab. If the definition represents a data entity, add fields in the Fields tab.