You can partition your definitions into multiple packages, where each package represents a dictionary of related terms. For example a single project could have an enterprise, departmental, and project-specific dictionary. Dictionary packages that are relevant to other projects can be shared by importing the package.
After you've created packages for your various dictionaries, you can add new definitions to them from the project browser: right-mouse click on the package where you want to create the definition and choose Add Definition.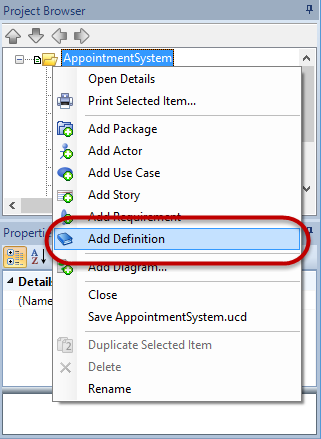 After giving it a name, double click on it to open the details window where you can fill in the rest of the information.
Alternatively to adding a definition via the project browser, you can add a definition by right clicking on a highlighted word or phrase. You'll be given the opportunity to choose which package you would like to place it in. See Adding a Definition for details.
If you accidentally create a definition in the wrong dictionary or decide that a it should belong ini a different one, you can move it to another package at any time.