An ID link creates a navigable reference from one use case to another. These references can be viewed in the traceability tab of both use cases. An ID link that appears in a use case's steps or extensions is treated as an includes relationship.
To create an ID link, edit any text you want to add a reference to. Right-mouse-click and choose Insert Use Case ID Link, or press Ctrl-L. (Or, if you know the ID of the use case you want to reference, you can type "UC-" and the list will automatically show.)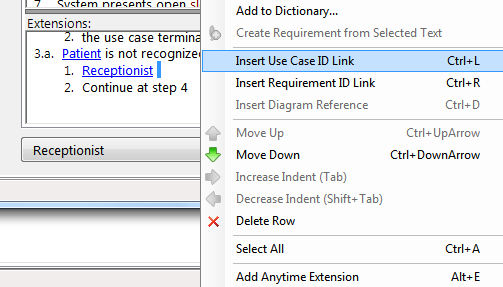 Select the use case you wish to reference, then double click or press enter to create the reference. Tip: Start typing any portion of the use case name to filter the list.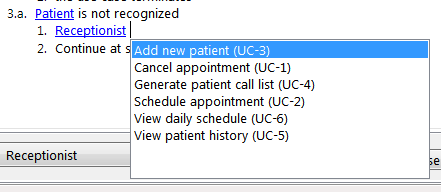 The name and ID of the referenced use case will be inserted. Since only the ID is used for the link, you are free to change the inserted name, e.g. to make it grammatically correct, or completely remove it. Navigate to the referenced use case by clicking on the ID hyperlink while holding the Ctrl key. Hover your mouse over the ID to show the use case's description in a tool tip.